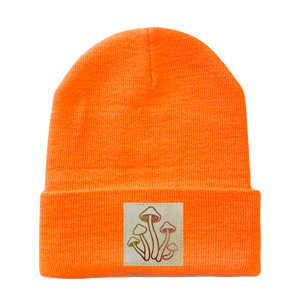 Neon Safety Orange Cuffed Beanie with Hand Made Vegan Leather Holographic Mushroom Patch over your Third eye, plant medicine hat 
THIS HAT IS A LITTLE BRIGHTER THAN IT APPEARS :-)
Plant medicine - What can we say? It's making a major comeback in the health and healing industry, helping many people wean from their depression and anxiety meds and get back their zest for life!
Plant Medicine, it's taking the medical industry by storm!

WE HAVE FACE MASKS TOO :-)

All patches are handmade and may vary slightly in color or hue...

Mix and Match any Patch with any Hat or Beanie and Contact us for Custom Personal or Company Gear!