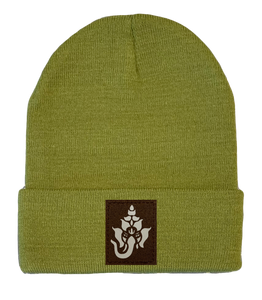 Cuffed Beanie with Ganesha over your Third Eye. Ganesha is one of the most distinctive Hindu deities. He has a large elephant head and a soft bellied human body. He plays a dual role of a supreme being powerful enough to remove obstacles and ensure success or create obstructions for those whose ambition has become destructive.  Ganesha is an archetype that is often called upon when you're about to embark on a new endeavor to bless the venture. As the Remover of Obstacles and the god of success, Ganesha is honored throughout Indian and in Hindu cultures, at both secular and religious ceremonies.
All patches are handmade and may vary slightly in color or hue... 
Mix and Match any Patch with any Hat or Beanie and Contact us for Custom Personal or Company Gear!