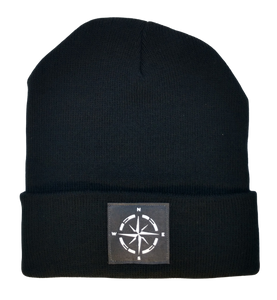 Beanie - Black Buddha Beanie with hand made vegan leather grey/white compass patch over your third eye
Find your true North with your Compass Buddha Beanie! Wearing a compass over your third eye is a great that it's never too late in life to change or alter your course.
The compass points in four directions; North, South, East and West, harkening back to sailors and ships traversing the stormy seas on their way home from a long journey. The compass holds meaning for a traveler, being a symbol for guidance, the ability to point you in the right direction.
All patches are handmade and may vary slightly in color or hue... 
Mix and Match any Patch with any Hat or Beanie and Contact us for Custom Personal or Company Gear!